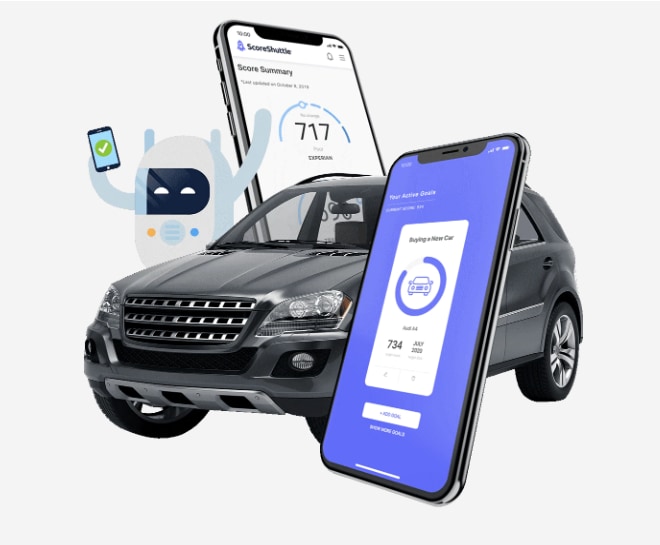 · As a customer, you can use ScoreShuttle to achieve the credit score you need to help you get the car you want.
ScoreShuttle highlights any items that may be negatively impacting your credit and gives you the tools and personalized credit-enhancing strategies to start making improvements.
· There are five factors that impact your credit score-payment history, amount of debt, length of credit history, credit mix and new credit.
------------------------------------------------------------------------------------------------------
What is credit repair? 
-Credit repair is the process of addressing any questionable negative items that could be hurting your credit profile. 
Credit repair involves fixing your bad credit in any way, shape or form. But when most people use the term "credit repair," they're referring to the process of disputing errors on credit reports.
Benefits of repairing your credit
-Lower interest rates
-Quality for better options
-Approval for higher limits
-More negotiating power
-Borrowing money from prime lenders
How does credit repair work? 
-We challenge your questionable negative items with all three bureaus, ensuring your credit reports are accurate and fair.
-We ask your creditors to verify the negative items they're reporting. If they can't, they are required by law to stop reporting them.
-We continue to watch your credit, addressing additional issues as they arise so that you can stay on track and reach your goals.
Why do credit reports matter?
You might assume you don't need to worry about your credit report unless you're applying for a mortgage loan or credit card. However, your credit can be reviewed in many other situations as well, including the following:
·         Landlords often check your credit when approving a rental application
·         Many utility companies run a credit check to determine if a deposit is needed
·         Insurance providers request credit information when determining rates on a car or home loan
·         Employers may request a credit report when making a hiring decision for a job application
Credit history can impact your life in many ways even if you aren't applying for a credit card, mortgage, or auto loan. And if you are, inaccurate information can cause the application to be turned down or for an approval to result in less favorable terms.
Why shouldn't you file a dispute online?
There are two basic reasons not to file your dispute for credit reporting errors online.
Reason #1
First, there is no paper trail, which could be essential to getting these items removed from your credit report.
When you send a letter of dispute, it's recommended that you send it certified with notice of receipt. This ensures you have proof of the date when you sent the dispute.
Why is the date important? Because credit reporting agencies are obligated by law to remove any information that cannot be verified within 30 days.
If you don't have proof of the date when you sent the dispute, you cannot use this law in your favor. With online disputes, there is no paper trail and you may not receive an email confirmation or any other notice of dispute request.
While the credit bureaus may make every attempt to follow through on disputes, it's easy for one to get lost in the system. Sometimes, creditors can refuse to verify the requested information, even though they are obligated to do so. If that happens, the data should come off your record.
Reason #2
The second reason not to file a dispute online is that the information isn't handled in the same way. The Fair Credit Reporting Act was developed to protect the consumer from unfair credit reporting practices.
It was revised to include online disputes under Section 611a(8). In this section, it says that the agency may disregard other paragraphs if the information is deleted within three days of notice of a dispute.
The paragraphs to be disregarded include the following requirements:
1.    The credit bureau doesn't have to forward the dispute and other information to the creditor.
2.    The credit bureau doesn't have to send you with written results from the investigation of the dispute.
3.    The credit bureau doesn't have to show the method of verification.
All of this information is important if you want to proceed with disputing the negative information in your credit reports. In addition, the type of delete in this situation may be a soft or temporary delete, which can then be reinstated when the creditor reports the next time.
This happens because the agency doesn't have to send information for the dispute to the creditor. What this means to you as the consumer is that the information which is disputed and deleted from your report can come back on in as little as 30 days.